GMERS Medical College - Gotri, Vadodara
The sprawling 27 acre campus has excellent infrastructure, such as state-of-the art labs, equipments, as well as other facilities that collectively provide a professional environment. The high standards maintained by the College have attracted students from all over the world. Several collaborations for teaching and research, have vastly enhanced the reputation of the College. Behind the reputation of the college, are the solid credentials of an accomplished faculty that imparts quality through a well-planned curriculum, comprising of structured courses. The College, now a constituent college of MS University, is geared to reach a new level of performance and set global standards.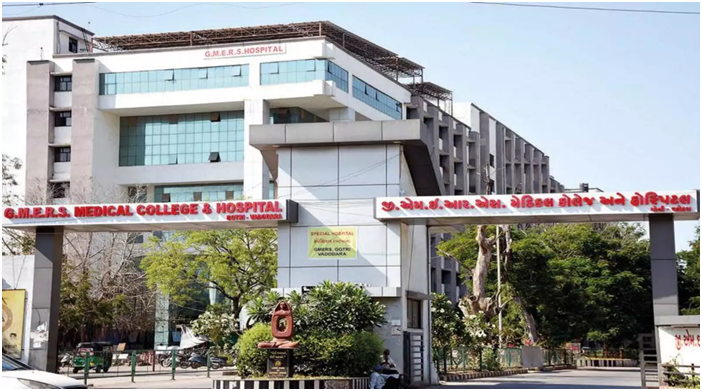 WORLD CLASS MUSEUMS
The College has unique museums where medical facts and oddities relating to the human body are on display. A collection of several dissected specimens and models are all carefully preserved for the layman and students, to observe. These include every part of the human body. The human fetus from a month old till its mature stage, and other rarities such as cysts removed from the body, are all on display, making it veritable bank of a visual reference.
HI-TECH LABORATORIES
The vast expansions of medical science and its complexity, necessitate that constant experiments and case studies be conducted within well-equipped laboratories. The College has an array of modern laboratories with state-of the art equipments. Trained staff, provides proper assistance and guidance to the students.
DEPARTMENT OF MEDICAL EDUCATION
Advances in health science and changing social structure of the country have necessitated the need for modern and valid medical education. The Medical Education Cell established in 2010, later emerged as Department of Education for Health Professionals, carrying out the following activities around the year. Training of trainers: The Department conducts in house workshops on educational technology and behaviour sciences.
UNDER-GRADUATE MEDICAL EDUCATION
Orientation program for the Under-Graduate is organized every year. The workshops for formulating/revising of the syllabi/curricula including evaluation are carried out from time to time. Health Professionals training for paramedical workers viz. BLS,ACLS etc, are carried out round the year.